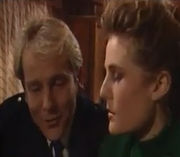 Tom Fletcher
said that
Miss Molloy
reckons he should give
Carly Morris
another chance. Tom does a vote with the rest of the residents of
Summer Bay House
. Carly and
Samantha Morris
are doing a photoshoot in
the city
.
George Morris
and Samantha have a plan after saying Carly is hopeless. Miss Molloy says that Tom has issued an ultimatum to the people at the photoshoot, either Carly comes home now or never. George gets Samantha to pose as Carly. Carly says she wants to speak to her after seeing her but the TV crew say they need to get on with the shoot. Miss Molly returns to SUmmer Bay House with the news that Carly does not want to come home. Tom packs her things, unaware that it was Samantha posing as Carly.
Main cast
Guest cast
Writer - Maureen Ann Moran
Series Producer - John Holmes
Exec Producer - Alan Bateman
Ad blocker interference detected!
Wikia is a free-to-use site that makes money from advertising. We have a modified experience for viewers using ad blockers

Wikia is not accessible if you've made further modifications. Remove the custom ad blocker rule(s) and the page will load as expected.