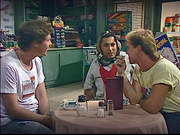 Martin Dibble
,
Lance Smart
and
Nico Pappas
hang out in the cafe area of
Celia's Store
and Martin and Lance play a practical joke on Nico which turns sour. 
Lynn Davenport
wants some changes to happen on the dilapidated Pappas farm. He allows her to sleep at his farmhouse in one of the barns. A mischievous
Bobby Simpson
balances a book on her head and entertains the other classmates before lesson begins.
Carly Morris
is shunned by everyone for looking down on
Tom Fletcher
for being a roadworker.
Main cast
Guest cast
Writer - Alister Webb
Series Producer - John Holmes
Exec Producer - Alan Bateman