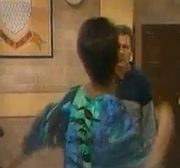 Alan Fisher
is angry that everyone seems to know about his aneurysm. He thinks it is his father
Donald Fisher
who told him. Alan runs to
Summer Bay High School
and punches his father.
Carly Morris
stoops to a new low to stop Celia being her chaperone to the shoot in
the city
. She uses Alan's illness as an excuse. 
Tom Fletcher
is angry at Carly. He says she is not going anywhere. Tom tears up the contract. Later that day, Carly sneaks off and gets a bus to the city.
Main cast
Guest cast
Writer - Jennifer Mellet
Series Producer - John Holmes
Exec Producer - Alan Bateman
Ad blocker interference detected!
Wikia is a free-to-use site that makes money from advertising. We have a modified experience for viewers using ad blockers

Wikia is not accessible if you've made further modifications. Remove the custom ad blocker rule(s) and the page will load as expected.