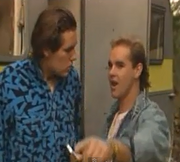 Frank Morgan
wants to know who spent $5000 worth of furniture on him. He suspects
Carly Morris
.
Martin Dibble
wants to move in with
Frank Morgan
. Carly is getting ready for the photoshoot tomorrow. Both Martin and
Lance Smart
move in with Frank. Frank how has 2 flatmates. Lance is attacked by a former tourist of the caravan park after he yet again sees him supposedly perving on his wife
Dawn
. Tom calms the situation. Tom gets a phonecall from 
Miss Molloy
that
Lynn Davenport
's parents want her back. Lyn is annoyed. Carly says a sarcastic remark and Tom says he is getting fed up with her.
Pippa Fletcher
and Lyn have a heart to heart. Carly suggests to Lyn that she pretends her parents are forcing her to return home when the press arrive for Carly's photoshoot tomorrow. Lyn considers the idea.
Main cast
Guest cast
Writer - Bruce Hancock
Series Producer - John Holmes
Exec Producer - Alan Bateman
Ad blocker interference detected!
Wikia is a free-to-use site that makes money from advertising. We have a modified experience for viewers using ad blockers

Wikia is not accessible if you've made further modifications. Remove the custom ad blocker rule(s) and the page will load as expected.