Morag Bellingham
wants to speak to
Celia Stewart
.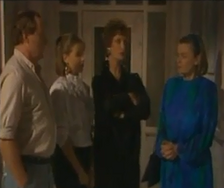 She has a plan to get
Roo Stewart
to meet
Brett Macklin
.
Alf Stewart
and
Roo Stewart
fell into Morag's trap.
Frank Morgan
moves into the flat adjoining
Ailsa's shop
.
Steven Matheson
helps him move in. Brett and Roo have a chat alone. Brett says to Alf that his
father
drove through
Summer Bay
the other day and feels it could be good for tourist development. Brett says his dad needs a local businessman to advise him and that he suggested Alf. Alf considers it. Brett says Alf could invest. When Alf, Celia and roo leave, Brett and Morag chat about their scheme. A delivery driver has arrived to deliver some furniture for him, $500 worth. They have paid for it. Frank has a secret admirer.
Main cast
Guest cast
Writer - Anne Brooksbank
Series Producer - John Holmes
Exec Producer - Alan Bateman
Ad blocker interference detected!
Wikia is a free-to-use site that makes money from advertising. We have a modified experience for viewers using ad blockers

Wikia is not accessible if you've made further modifications. Remove the custom ad blocker rule(s) and the page will load as expected.