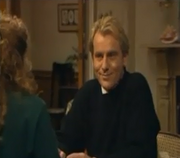 After learning that
George Morris
is in the TV industry,
Lance Smart
and
Martin Dibble
show him the video of
Frank Morgan
and
Roo Stewart
's wedding. George does not think they will be able to train up. Morris tells
Tom Fletcher
that Carly has agreed to let a film cre film her photoshoot at
Summer Bay House
. Tom never knew Carly had agreed. He confronts her and says the crew will only film shots of her on her own. Frank shows roo the home video and says he is annoyed that Roo was smiling to the camera before the ceremony knowing she was going to jilt him and say the baby was not his. An upset Frank trashes the caravan and has to be restrained by Tom.
Main cast
Guest cast
Writer -
Series Producer - John Holmes
Exec producer - Alan Bateman
Ad blocker interference detected!
Wikia is a free-to-use site that makes money from advertising. We have a modified experience for viewers using ad blockers

Wikia is not accessible if you've made further modifications. Remove the custom ad blocker rule(s) and the page will load as expected.