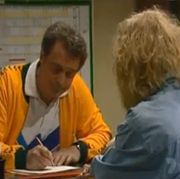 Alf Stewart
says if the Macklins want a war they will have one and will fight against them for custody of
Roo Stewart
's
baby
once he/she is born.
Celia Stewart
is given some smelly bait a mate of Alf's caught for him. Alf and Roo visit
Morag Bellingham
. Alf threatens to knock her block off. Morag calmly says someone got 6 months for that. He asks if she is behind 
Brett Macklin
and his lawyer fighting for custody of the baby.
Bobby Simpson
and
Narelle Smart
chat up a surfer on the beach.
Brett Macklin
arrives and is given a huge shiner by Alf. Bobby is chatted up by the surfer.
Donald Fisher
walks in on them and the lad says "Hello dad".
Main cast
Guest cast
Writer -
Series Producer - John Holmes
Exec Producer - Alan Bateman
Ad blocker interference detected!
Wikia is a free-to-use site that makes money from advertising. We have a modified experience for viewers using ad blockers

Wikia is not accessible if you've made further modifications. Remove the custom ad blocker rule(s) and the page will load as expected.