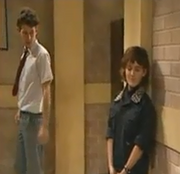 Bobby Simpson
earns herself a detention and she earwigs a converstaion between
Ailsa Stewart
and
Barbara Fisher
about meeting
Roo Stewart
after school.
Donald Fisher
and Barbara arrange a meal out for tonight.
Lance Smart
and
Martin Dibble
play a trick on
Celia Stewart
. Ailsa Stewart calls Alf from the shop to say Roo has had an acciddent. Alf falls for the trick but Ailsa says it was a ploy to get him to talk to her and the fact he came round shows he still cares for her. Later on Alf makes up with Roo.
Main cast
Guest cast
Writer - Lyn Oglivy
Series Producer - John Holmes
Exec Producer - Alan Bateman
Ad blocker interference detected!
Wikia is a free-to-use site that makes money from advertising. We have a modified experience for viewers using ad blockers

Wikia is not accessible if you've made further modifications. Remove the custom ad blocker rule(s) and the page will load as expected.