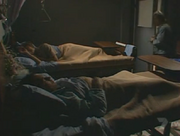 Sally Fletcher
almost rumbles
Samantha Morris
and
Carly Morris
's plan.
Martin Dibble
sneaks beer into 
Frank Morgan
's hospital ward. Frank and Martin get chatting. Martin makes himself comfortable, annoying the patient next to Frank. The following morning, Frank tells
Ailsa Stewart
that he loves her. Bobby visits him in hospital and gives him a Bruce Springsteen book. Frank says he knows how Bobby feels about him and the dream about Bobby saying she loved him when he was coming round from the anasthetic was not a dream.
Main cast
Guest cast
Writer -
Series Producer - John Holmes
Exec Producer - Alan Bateman
Ad blocker interference detected!
Wikia is a free-to-use site that makes money from advertising. We have a modified experience for viewers using ad blockers

Wikia is not accessible if you've made further modifications. Remove the custom ad blocker rule(s) and the page will load as expected.