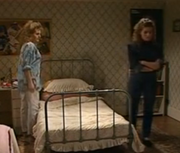 Carly Morris
allows her sister
Samantha Morris
to sneak into her bedroom using a ladder. As Sam climbs thorugh the window, the ladder falls backwards. Samantha says she needs to lay low for a while.
Sally Fletcher
hears the ladder fall and then hears arguing in Carly's room and thinks her and
Lynn Davenport
have a guy in there. Tom goes to have a look outside first. He sees the ladder lying on th eground under the bedroom window. He knocks on the door, Samantha hides under the bed. Tom asks if they have a guy hiding somewhere. They fob him off. Tom falls for it.
Ailsa Stewart
visits
Frank Morgan
in
hospital
.
Main cast
Guest cast
Writer -
Series Producer - John Holmes
Exec Producer - Alan Bateman
Ad blocker interference detected!
Wikia is a free-to-use site that makes money from advertising. We have a modified experience for viewers using ad blockers

Wikia is not accessible if you've made further modifications. Remove the custom ad blocker rule(s) and the page will load as expected.