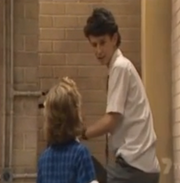 Tom Fletcher
and
Pippa Fletcher
are told that Eric the dog may not pull through and if they did operate, his chances of survival are slim. It could also cost $600. Tom and Pippa decide to put Eric down.
Sally Fletcher
comforts Eric after he is euthanised. Later on, she tells 
Lynn Davenport
that Tom and Pippa decided to put Eric out of its misery. As Lynne was growing attached to the dog, she blames Tom and Pippa. She then storms round to
Donald Fisher
's office and accuses him of poisoning the dog. Don says she will be suspended if she speaks to him like that again.
Frank Morgan
pays
Steven Matheson
to do the study for
Roo Stewart
so him and Roo can spend time together. Late that night, Lynn packs a bag and leaves in the middle of the night.
Main cast
Guest cast
Writer Greg Stevens
Series Producer John Holmes
Exceutive producer Alan Bateman
Ad blocker interference detected!
Wikia is a free-to-use site that makes money from advertising. We have a modified experience for viewers using ad blockers

Wikia is not accessible if you've made further modifications. Remove the custom ad blocker rule(s) and the page will load as expected.