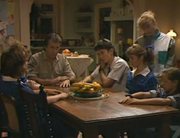 Carly Morris
is sulking that her sister has a modelling career now and she hasn't. She has tolen $50 to buy a dress.
Frank Morgan
is recovering in hospital.
Celia Stewart
visits him. Frank has decided he wants nothing more to do with Roo.
Steven Matheson
tries to get whoever stole the money to own up. No one does.
Bobby Simpson
says the girl in the paper was her twin sister
Samantha Morris
after Carly lied to
Matt Wilson
saying it was her in the paper. She returns the $50 without anyone knowing.
Main cast
Guest cast
Writer - Maureen Ann Moran
Series Producer - John Holmes
Exec Producer - Alan Bateman
Ad blocker interference detected!
Wikia is a free-to-use site that makes money from advertising. We have a modified experience for viewers using ad blockers

Wikia is not accessible if you've made further modifications. Remove the custom ad blocker rule(s) and the page will load as expected.