Brett Macklin
gets
Roo Stewart
to sign the form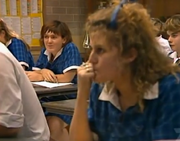 s saying he will get full custody of the baby when it is born. Roo quickly storms out and gets into the car, saying she is going to the abortion clinic. Morag calls round all the clinics and they say that she has not been booked in.
Carly Morris
feels ill in class and faints, but is feigning it so she can get out of school early. Roo returns later and says that she has had an abortion. Brett throws a wobbler. Morag tells him to go into the study to calm down. 
Celia Stewart
arrives to take Roo back to
Summer Bay
. Donald sees what looks like Carly in a photoshoot in the newspaper.
Main cast
Guest cast
Writer - Maureen Ann Moran
Series Producer - John Holmes
Exec Producer - Alan Bateman
Ad blocker interference detected!
Wikia is a free-to-use site that makes money from advertising. We have a modified experience for viewers using ad blockers

Wikia is not accessible if you've made further modifications. Remove the custom ad blocker rule(s) and the page will load as expected.