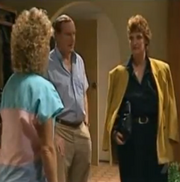 Alf Stewart
's sister
Morag Bellingham
arrives in
Summer Bay
. She is sure to cause trouble for her family and she shows her disapproval of
Roo Stewart
's choice of husband.
Bobby Simpson
wants to expose the motives Roo has for marrying
Frank Morgan
and the fact that her baby may not be Frank's. She starts by cutting Roo's wedding dress with a pair of scissors. Alf is not so sure about fostering Bobby, seeing as she seems to hate Roo. Meanwhile Frank's bucks party is being prepared by
Lance Smart
and
Martin Dibble
. They organise some strippers. Celia feels Morag is bullying her already. Brett Macklin turns up on the doorstep of
The Stewart House
. He introduces himself to Celia.
Main cast
Guest cast
Writer - Bruce Hancock
Series Producer - John Holmes
Exec Producer - Alan Bateman
First appearance of the legendary Morag Bellingham.
Ad blocker interference detected!
Wikia is a free-to-use site that makes money from advertising. We have a modified experience for viewers using ad blockers

Wikia is not accessible if you've made further modifications. Remove the custom ad blocker rule(s) and the page will load as expected.