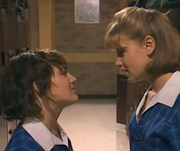 Bobby Simpson
questions why
Roo Stewart
said she felt the baby kick at just 8 weeks if they dont start until 12 weeks and the baby cannot be
Frank Morgan
's. Bobby asks
Carly Morris
about Roo's time in boarding school and Carly says Roo said she stayed with a man but Carly cannot remember his name but it began with B, she then remembers it is Brett. When no one is looking Bobby breaks into Roo's locker with a crow bar and steals her diary. She leafs through and finds the only contact Roo has in her diary is a
Brett Macklin
. She looks up his address in the phone book. Bobby bunks off school to go and wait for Brett outside his house in
the city
. She confronts him and he reveals Roo told him about her plan to make Frank think the baby is his. Bobby tells Brett to tell Frank so he does not marry Roo but Brett refuses. Roo tells Frank that Bobby thinks the baby is not his. Later Bobby tells Frank to see sense. She nags him and he physically pushes her out of the caravan.
Main cast
Guest cast
Writer -
Series Producer - John Holmes
Exec Producer - Alan Bateman
Ad blocker interference detected!
Wikia is a free-to-use site that makes money from advertising. We have a modified experience for viewers using ad blockers

Wikia is not accessible if you've made further modifications. Remove the custom ad blocker rule(s) and the page will load as expected.