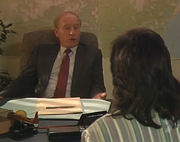 Tom Fletcher
and
Frank Morgan
are surprised to see each other at the interview. Frank goes for the interview as a clerical assistant for the warehouse. He is interviewed by
Harry Middleton
. Hazza interviews Tom who says he was a sales manager when he worked in
the city
. Frank worries that Harry did not like him much.
Roo Stewart
feels the baby kick and Celia says it cannot do as she is only 2 months gone. This alarms Bobby as she works out from a book that babies dont start kicking until 12 weeks in. Bobby tells
Ailsa Stewart
that babies never start kicking until at least 12 weeks in and that Frank and Roo never had sex before she left for the city, which was 9 weeks ago. Bobby thinks Roo is lying about how far gone she is and the baby cannot be Frank's. Ailsa says that Bobby could be in big trouble if she blabs and it is all wrong. Bobby says she will let everyone know what a slag Roo is before she marries Frank.
Main cast
Guest cast
Writer - Greg Haddrick
Series Producer - John Holmes
Exec Producer - Alan Bateman
Ad blocker interference detected!
Wikia is a free-to-use site that makes money from advertising. We have a modified experience for viewers using ad blockers

Wikia is not accessible if you've made further modifications. Remove the custom ad blocker rule(s) and the page will load as expected.