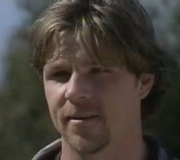 Brian Roger Forbes
, nicknamed
Dodge
was a character in Home And Away in 1989 and 1995. He was a local criminal wo had initially been fostered by the Fletcher family. His first episode was
Episode 287
and he later got charged with arson and murder, returning in 1995 to get revenge on
Steven Matheson
and his last episode was
Episode 1806
when he had a cliffside confrontation with Steven. Dodge and Steven fell off the cliff into the water below. Steven survived but Dodge was never seen again and his body was never found. As of 2017 whether Dodge died or survived still remains a mystery. While his 2 stints were brief, they were memorable and Dodge remains one of the shows most memorable guest characters. Dodge was played by
Kelly Dingwall
(also known as Kelly Dale).
Biography
Edit
Backstory
Edit
Brian Roger Forbes was born in about 1970 into a well off family.
1989, 1995
Edit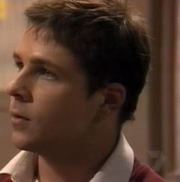 Dodge was fostered by
Tom
and
Pippa Fletcher
in 1989 and stayed at
Summer Bay House
. He started causing trouble for the residents of Summer Bay including torching
Celia's Store
(
Episode 293
) which resulted in the death of
Philip Matheson
. Dodge later admitted this (
Episode 373
) and was detained by
Donald Fisher
until the police arrived. Dodge was then jailed.
In September 1995, Dodge was given parole and returned to Summer Bay, much to the chagrin of Pippa. She even told him to leave when she saw him at the door of Summer Bay House. He killed Murdoch Roberts, paid for by Mud's son Nathan. Dodge's motive for returning was to get revenge on Steven Matheson for having him jailed 6 years earlier.  Around this time, he dated Lisa Matthews, Vicki Baxter's doppelganger. Dodge and Steven had a showdown on the cliffs and both fell several metres into the sea. Steven survived unhurt and was rescued, but Dodge was never seen again and is presumed drowned.
As of 2018 it is still unknown if Dodge survived that fall in 1995. Almost 23 years on, it remains one of the great unsolved mysteries of Summer Bay.
Memorable info
Edit
Birthday: About 1971
Died: October 1995 (Body never found,  presumed dead, Harold Bishop style lol)
Full Name: Brian Roger Forbes
First Line: "Give us a couple. Bleedin' hell!" (to Sally, as he stole her lollies)
Last Line: "Feelin' lucky, Stevo? Wanna see if we can fly?"
Appearances
Edit
1989
1995