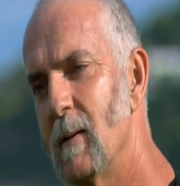 Danny Braxton
was a minor character in Home And Away in 2012. He was the villainous father of
Darryl Braxton
and
Heath Braxton
and also
Kyle Braxton
from an affair he had while married to
Cheryl Braxton
, although Chezza cheated on Danny once and became pregnant by
Johnny Barrett
, resulting in him being the father of
Casey Braxton
. Danny died in 2012 after being shot by Casey. Danny was played by
Andy McPhee
.
Biography
Edit
Backstory
Edit
Daniel Braxton was born on the 25th July 1959 in Mangrove, a town near Summer Bay. He was a tearaway teen and met and married Cheryl Braxton in about 1980. They had a son Darryl Braxton in 1981 and Heath Braxton in 1985. Cheryl Braxton had an affair with Danny's friend Johnny Barrett in 1993 and she fell pregnant with Casey Braxton who was born in 1993. Danny in turn had an affair with a single woman which resulted in the birth of a son Kyle Braxton in about 1994.
Memorable info
Edit
Birthday: 25 July 1959
Died: 2012 (Aged 53)
Spouse Cheryl Braxton
Children Darryl Braxton, Heath Braxton, Kyle Braxton
Adoptive children Casey Braxton
Grandchildren Darcy Callahan, Rocco Scott-Braxton, Harley Braxton or Lockwood
Ad blocker interference detected!
Wikia is a free-to-use site that makes money from advertising. We have a modified experience for viewers using ad blockers

Wikia is not accessible if you've made further modifications. Remove the custom ad blocker rule(s) and the page will load as expected.