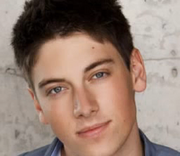 Casey Braxton was a character in Home And Away who first appeared in
Ep 5234 (17 Feb 2011)
and last appeared in
Episode 6052 (16 Sep 2014)
. He is the brother of
Darryl Braxton
and
Heath Braxton
who make up the trio called The River Boys, who dabble in crime. Casey died in an armed standoff in September 2014 when
Jake Pirovic
shot him while aiming for Brax. He was played by
Lincoln
Younes.
Biography
Edit
Backstory
Edit
Casey Braxton was born in January 1994, the third son of Cheryl Braxton who had an extra marital relationship with familiy friend Johnny Barrett while married to Danny Braxton. Johnny was Casey's natural father. Danny thought he was Casey's father. Casey was born at home and his older half brother Darryl Braxton held him in his arms and promised to always care for him.
2011-2014
Edit
Memorable info
Edit
Birthday: 23rd January 1994
Died: 16 September 2014 (Aged 20)
Casey's gravestone says he was born 23rd January 1995 but other refs say he was born a year earlier.
Father Johnny Barrett
Mother Cheryl Braxton
Siblings Darryl Braxton, Heath Braxton, (half, same mother), Josh Barrett (half, same father)
Ad blocker interference detected!
Wikia is a free-to-use site that makes money from advertising. We have a modified experience for viewers using ad blockers

Wikia is not accessible if you've made further modifications. Remove the custom ad blocker rule(s) and the page will load as expected.