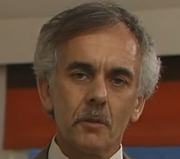 Alan Stone
was a minor character in Home And Away in 1990. He was a teacher at
Summer Bay High School
who used to physically abuse pupils. ALan was the teacher from hell.
Donald Fisher
soon had him transferred from the school. Alan was played by
Philip Hinton
.
Biography
Edit
Backstory
Edit
Alan Stone was an alcoholic teacher. He arrived at Summer Bay High in 1990 and soon his pupils were scared of his bull in a china shop ways. He abused the pupils and intimidated them. He even made a pass at old friend Jennifer Atkinson, cousin of Alf Stewart. Stone even bought back the caning and singled out Blake Dean and Karen Dean, even physically grabbing her. In the end, even the tough but fair principal Donald Fisher, after several attempts to calm him down, called him in his office and told him to leave and Stone was transferred to another school never to be seen again.
What became of Alan after this is unknown. Alan may have been sacked altogether from teaching.
Memorable info
Edit
Appearances
Edit
1990
Ad blocker interference detected!
Wikia is a free-to-use site that makes money from advertising. We have a modified experience for viewers using ad blockers

Wikia is not accessible if you've made further modifications. Remove the custom ad blocker rule(s) and the page will load as expected.