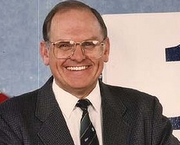 Alan Bateman
, (born as
William Alan Bateman
, 2nd January 1936, Perth, Western Australia - August 2012), the man who created the show which became known as "Home And Away", and was the series original executive producer. He was a television executive for the Seven Network. In 1985, the network, which transmitted rival serial
Neighbours
, axed the show after 171 episodes but Network 10, picked up the show and production recommenced. The bosses wanted a new show to challenge the suburban set Neighbours so thus Home And Away, set in the the fictional beachside town of Summer Bay was chosen, however the show was in development when the first series of Neighbours was on air in 1985, as co-creator
Bevan Lee
said "The show had been in development for over 2 years by the time I came on board", which was in 1987. Also a Sydney Morning Herald article says Bateman had been working on H&A for 3 years by January 1988. It transpires that Bateman chose one of his existing projects as the new rival to Neighbours. Alan Bateman liked to take time creating shows, at least 2 or 3 years.
Alan Bateman was executive producer of the first 215 episodes of Home And Away. His successor was Des Monaghan.
Early career
Edit
Alan Bateman trained as an electrician before starting a career in drama. He worked for many years at the Australian Broadcasting Corporation. He left that post in 1984 and moved to become Director Of Drama at the Channel Seven network in Sydney.
On the 3rd February 1985, The Sydney Morning Herald stated that Bateman had taken up an executive position at the network
Home And Away
Edit
In late 1984 or early 198
5, around the time he departed from the ABC Alan Bateman had an idea for a new TV series, and came up with a childless couple called
Tom Fletcher
and
Pippa Fletcher
. Alan Bateman was now Head of Drama by 1985, and other rival soap
Neighbours
, was axed in July 1985, Channel 10 had picked up the show. Looking for a new serial Bateman wanted a new program that would rival Neighbours which was doing really well on 10, Alan Bateman chose one of his existing projects which was to become Home And Away, a show which had been in development by 1986.
While developing Home And Away, he also produced other Network Seven shows such as court drama Rafferty's Rules, Melba and mini-series Nancy Wake, a biopic of the World War II heroine.
He had got the original idea for Home And Away while on a trip to a remote country town in the Riverina area of New South Wales. Being a hot summer day, Alan stopped in the town as he wanted an ice cream. He was speaking to locals about a new foster home being built for children from the city, (aka Sydney). Alan then had a brilliant idea for a new serial, which he worked on for a long time, to make sure it was realistic. He did case studies on foster children as well as return to the town to get more opinions on the foster home, which wa snot wanted in the small community. In August and September 1985, Home And Away, while in development, featured in a compiled photo album portfolio on current and future productions, proof sheets of publicity and production shots. This means the title of the show was chosen before August 1985. Such albums were made every couple of months as photos were taken of new projects.
In early 1987, Bateman made final preparations for the new upcoming serial "Home And Away" to be aired, which he had worked on for over 2 years already. At the end of February 1987, the show was ready to start casting, casting begun in March.
John Holmes was bought forward to produce the show. The pilot episode was rewritten by Bevan Lee in June 1987. Also in June 1987, Nicolle Dickson auditioned for the role of Bobby Simpson, who would become the Fletcher's sixth foster child. In July 1987, the pilot episode was filmed. Production for the new soap was well underway. In October 1987, Alan showed his boss Christopher Skase the pilot and was told to go full steam ahead. Home And Away began filming its regular 5 day a week episodes. The pilot episode was transmitted on the 17th January 1988 and the regular episodes started transmission on the 18th January.
However after 4 weeks on air, in February 1988, the ratings were not doing very well and executives thought
about axing the show but Bateman fought tooth and nail by having the series promoted, the cast going around shopping malls in Sydney promoting the series and within a month, ratings climbed high. The show was now on solid ground. Alan Bateman would serve as executive producer of the show.
In September 1988, Alan Bateman left his growing baby Home And Away to take over as Head of Drama at the Nine Network, knowing the brash young soap opera Home And Away was in good hands. Des Monaghan took over as executive producer of the show.
After Home And Away
Edit
Bateman took over as Head Of Drama at Nine Network in August 1988. He then formed a drama department at Nine and soon got the channel to adopt his time honoured way of creating shows. Network Seven were not that pleased that Nine had poached its drama king. Later on John Holmes and Bevan Lee joined Nine.
In 1996, Bateman was executive producer of the 1996 Olympic Games.
Alan Bateman died in August 2012 aged 76, after a battle with cancer.
Legacy of Alan Bateman
Edit
The Devising of Home And Away (c1984-1987)